Passion or Money, a Choice for the Future
Calos Bulan, a Senior with a Bright Future.
Hang on for a minute...we're trying to find some more stories you might like.
During passing, Carlos Bulan can be seen wearing his ROTC uniform while walking to his next class. "The program really tells you 'Hey. Do what you're supposed to do and don't hold back'," Bulan said.
But unlike many of his peers in the program, Bulan doesn't plan to join the navy after finishing his senior year. "I told my JROTC teachers I might not even go into the military," he said.
Between homework and NJROTC, this James Campbell High School (JCHS) senior dedicates a minimum of six hours a day refining his art skills. At the end of class, he can be seen drawing in his sketchbook or helping his friends make promposal posters. This, however, isn't what Bulan plans to pursue after high school ends.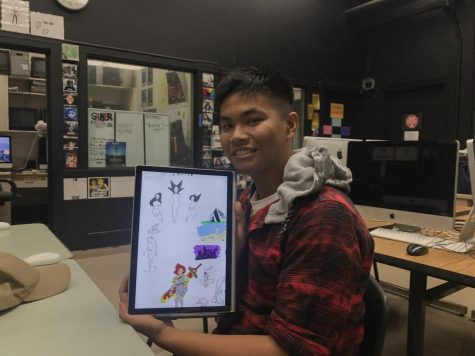 "I know for a fact getting a job in the arts is very hard," Bulan said. Industries regarding creative media are especially competitive. "Animation's something anyone can do if they put their mind to it—and with all these cartoons and things going on, I don't think they're [the industry] looking for anyone right now."
Bulan's biggest inspiration is Rebecca Sugar, the creator of Cartoon Network's Steven Universe. From Sugar, Bulan learned more about character anatomies and gained the perseverance to keep on polishing his own unique art style.
Engineering is sometimes thought of as the polar opposite art industry. There are more stable job opportunities, more solid work hours and higher salaries. Bulan wants to study aeronautical engineering in college. He said, "I wanna see my own design of a plane roll out and then be like, 'I made that. I spent a lot of hard work on this.'"
The end of high school is not the end of Bulan's art career, helping his friends design their promposal posters will be replaced by designing his own aeroplanes. Engineers like artists, trust in the process of trial and error to make their work better. Bulan learned from practicing his art over and over again. "Everyone can draw so when people say 'I suck at drawing.' It's not because you can't draw, you just need to practice," Bulan said.
Oftentimes, students find themselves at a crossroads when it comes down to choosing what they want to do in the years following high school. For most, it's a difficult decision between choosing passion and what will pay the bills. For Bulan, the dilemma is how to incorporate both of his passion into his future.