Freshmen Explore Future Jobs at Career Fair
James Campbell High School (JCHS) freshmen met with local business people from across the state at the 1st annual Campbell-Kapolei Career Expo at Kapolei High school on October 26. Students took the opportunity to interview representatives from over 75 businesses specializing in a variety of fields ranging from education to information technology.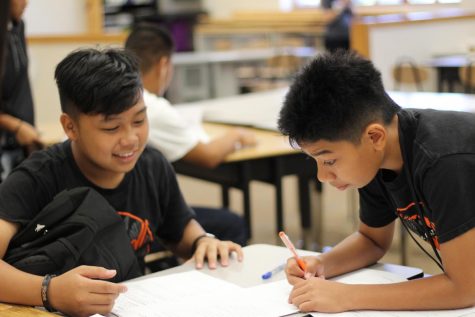 During the 2017-2018 school year, JCHS fully implemented the Academies in which students in grades 10-12 prepare for their lives after high school by choosing an academy to explore careers that interest them. The five specialities JCHS focuses on are Public and Human Services, STEAM, Creative Media, Business and Agricultural Science, and Health Sciences. Freshmen are placed in a separate academy designed to meet the needs of the new class of high schoolers.
"I'm hoping to have a clearer vision of what I want to do after high school," said freshmen Lynzie Pineda at the beginning of the career fair. Many freshmen shared similar goals and spent their time talking to community figures about how they can prepare for a career in a specific field.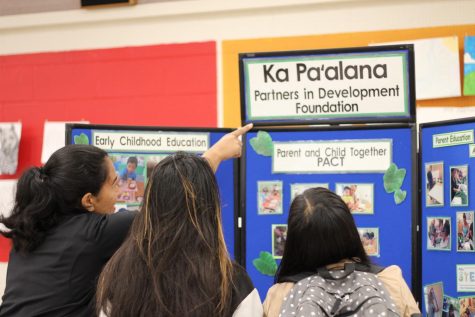 Organizations like Ka Pa'alana participated in the career fair to hopefully recruit high school students. "We're looking for some [teacher assistants] because we are low on employees," said preschool teacher Jessie Kamakura. The Ka Pa'alana program serves homeless and at-risk Hawaiian children and their adult caregivers at various locations all around Oahu free of charge. Kamakura, like other business representatives, also benefitted from this fair.
"[The expo] was a really good experience in terms of getting first-hand experience with people directly from each business," said Maegan Rosario. For students like Rosario, the career fair proved to be an invaluable experience in helping them to prepare for their lives after high school. Rosario highly recommends that all future freshmen take advantage of the opportunity to explore career options in a fair like this one.