Hurricane Season Safety
Over 45 people in the Bahamas have been found dead because of Hurricane Dorian while thousands are still missing. This category five hurricane hit the Bahamas on September 1, 2019 with wind speeds up to 200mph. As of now, 70,000 people are still left homeless with no source of food or clean water. The hurricane then shifted its focus to the states, hitting South Carolina and killing one person. The hurricane died down to a category one but was still moving towards Cape Race in Canada. Even though those damages happened to places far away from Hawaii, it does not mean that we should not take hurricane season seriously. Although the hurricanes that have come close to Hawaii had been turned into tropical storms, it does not mean that we will always be that lucky.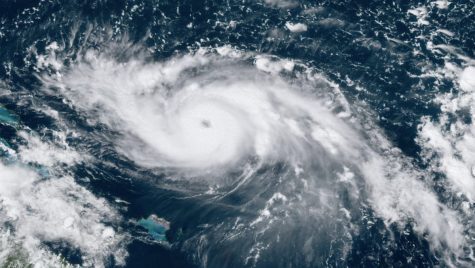 Most adults and adolescents in Hawaii do not know much about hurricanes. Some have knowledge about hurricane preparedness while others just simply give it a shrug. Ewa Makai Middle School sometimes offers a fair about being prepared for hurricane season. They give away first aid kits and tell you where evacuation shelters can be located. It helps to keep the public informed and if they have more questions, experts show up to these events. You should at least carry/have a kit ready to go for any natural disaster.
The things you need before and during a hurricane are:
1) One gallon of water per person and day
2) Sanitation (Soap, garbage bags, disinfect, paper towels)
3) Canned food/ Staples (Salt, pepper, etc.)
4) Board up the windows NOT with tape
5) First aid kit (Band-aids, hand sanitizer, etc.)
6) Radio (keep up to date with the storm)
7) Non-prescription drugs
8) Secure your pet(s)
9) Tools/Supplies (Flashlight, matches etc.)
10) Possessions and Documents
For more details go to: https://hurricanesafety.org/prepare/hurricane-safety-checklists/

Tiari Cabral, a Junior at JCHS talked about how her family prepares for hurricanes. She states, "We make sure we have enough water to live off of for at least two weeks, we put sandbags in front all entrances of our house, get all light sources (candles, flashlights, matches, etc) in case there's a power outage, and we make sure our dogs are in safe places inside the house." She also goes on to explain that if it's a serious hurricane, her family gathers in their living room so they're not separated. When asked about her stance on taking hurricanes seriously she stated, "To be honest I don't usually take hurricanes seriously. It's usually just heavy rainfall but I also make sure my family and I are prepared." Cabral also said she'd rather be safe than sorry since you never really know when a hurricane could change your life.


Toree Tuiolemotu, a Junior at JCHS also had some things to share about hurricanes. She gave insight about how hurricanes are out of our human control and how she feels about them. Tuiolemotu stated, "Even though nowadays there has never been a very disastrous one, that doesn't mean that it won't happen ever. I still do take it seriously even though most are just warnings. It is fascinating how life can change in the span of seconds, and we shouldn't doubt the power of mother nature/time." When asked about how she and her family deal with hurricanes she commented, "We don't do anything. We'll just maybe make sure we have enough water and that the electricity is in good condition."