Asian entertainers underrepresented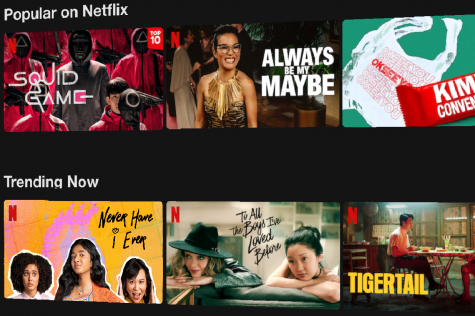 While the number of Asians in the United States continues to grow, is the representation in media increasing as well? Many Asian Americans grow up being underrepresented in television, film, and online. Times are slowly changing and now Asians in the media are seen more often. There are many Asian musical artists, actors, and directors finally getting recognition, but why is this so important?
Asians were commonly portrayed as the token minority side character, stereotyped, or both. "It feels like we aren't regular people, but supporting characters in other people's lives," said Kristine Joyce Locquiao, a student at James Campbell High School (JCHS).
Asians are constantly perceived as the emasculated nerdy weirdo. "I remember watching Bunk'd (2015) and seeing the only two Asian characters in the show were both nerdy and weird. I thought, is this the only way people see Asians?" senior Ashley Ramil said. 
"My favorite movie as a child was Aladdin (1992) because the main character (Jasmine) looked the most similar to me," Ramil said. Growing up seeing people who share the same looks, culture, even religion shows that their stories matter. It boosts self-esteem and helps kids grow into loving themselves.
"I was shocked to find out Bruno Mars is Filipino. It was cool having someone so famous with the same race as you," said Locquiao.
The most recent history-making film is Shang Chi and the Legend of the Ten Rings. This is Marvel's first Chinese superhero film. With an Asian lead and a predominantly Asian cast, this was phenomenal for many people. "Although I'm not Chinese, it feels empowering to see a Marvel superhero who is Asian," Ramil said. Not only does this film have a great Chinese cast, but it also represents a bit of Chinese culture.
There has been a lot of great Asian representation, not only in the film industry but in the music industry as well. There are many Asian musical artists on the rise, such as BTS, Olivia Rodrigo, and 88rising. "It makes me feel like I have a chance of doing something big," said Locquiao. Olivia Rodrigo won MTV's Video Music Awards (VMAs) for New Artist of the year. 
The media has a history of creating dull portrayals of Asian characters. With the rise of Asian actors, artists, and directors in America, this can change. This will be great for future generations of Asian Americans to be able to see shining portrayals of themselves and their cultures.