Automotive course offers hands-on experiences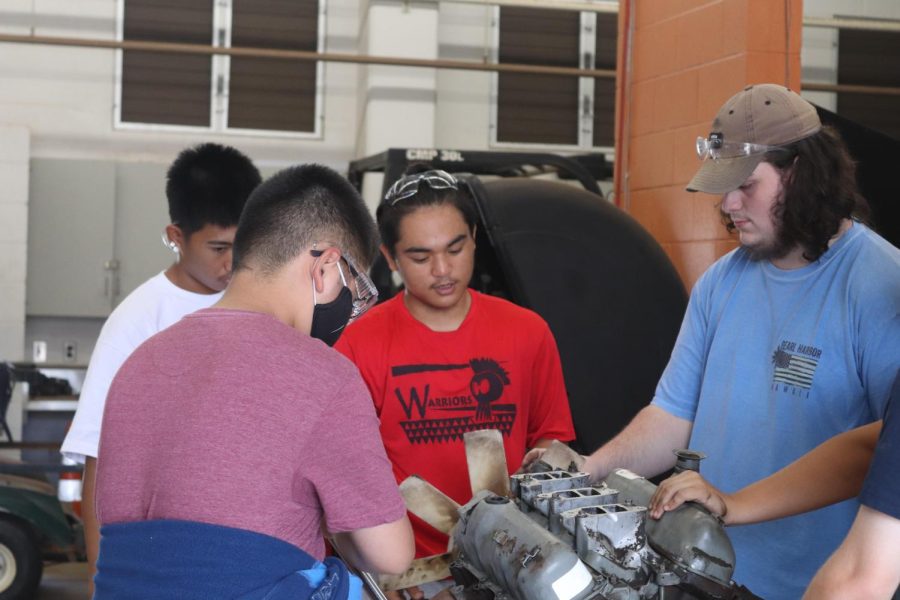 Imagine cars, tools, and machinery. Think of whirring and clanging. That encapsulates R building's Automotive Maintenance and Light Repair class at James Campbell High School (JCHS). But it's much more than that. The automotive course focuses on mechanic work, vehicle expenses, maintenance, and safety. Knowing these concepts can save time, money, and lives. The class has many advantages like experience, certifications, knowledge, etc. All in all, automotive proves to be an excellent learning environment, even for those only interested in owning a car. 
In addition to knowledge, automotive students have many benefits and opportunities. At the end of the semester, the students get a card stating they know how to stay safe in an auto mechanic shop. This card is great for applications, interviews, resumes, and the JCHS Saber Digital Portfolio. Internships are also an option, which can place one higher on a list of future employees. These both are great opportunities to get involved in.
Along with the benefits, the automotive industry presents a promising future for its young mechanics. One institution especially popular with JCHS automotive students is the Universal Technical Institute (UTI). UTI is a trade school located from coast to coast, offering courses in numerous auto mechanic fields. Finally, after all of the school, the graduates can use th
eir knowledge to make good money. 
JCHSʻs Automotive Maintenance and Light Repair class proves to its students that it has many benefits. The students have the opportunities for knowledge, certifications, internships, and the ability to set up a successful future from a young age. Even if they aren't aiming for a spot in the automotive industry, the class still teaches things universally crucial in life.