Local Vendors Promote Sustainable Fashion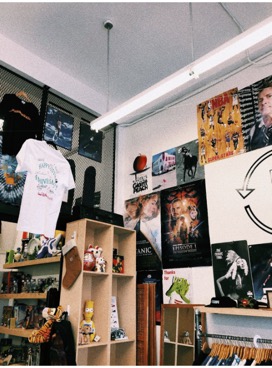 Since 2010, vintage (80s-90s) streetwear has resurfaced throughout the country. Hip-hop culture has inspired the young generation to replicate the style that they have seen through streetwear icons such as Shawn Stussy (founder of Stussy Clothing) and Ed Davis (Co-Founder of Brain Dead Clothing). Located in Downtown Honolulu, Harbors Vintage have opened their doors to allow dozens of kids to express their style, while others like James Campbell High School senior AJ Castulo, found alternatives to selling used clothes at local events. 
First opening in 2016, Harbors Vintage started as a small store in South Beretania Street with little exposure to the public. Since then, they have managed to open a new location in the Royal Hawaiian Center, and a brand new multi-room building just down the street from there original location. With many of their customers being teens and young adults who crave the vintage style, owner Arik Ma has gained a reputation for helping students and small businesses. He introduced "Harbors Market," which is an event that allows small businesses to sell their own merchandise. "Student Tuesdays" is another event which was made to give high school students 15% off their purchases when they bring a school ID. 
Even with the popularity of Harbors Vintage, many seek different alternatives to buy the clothes they seek. Castulo has immersed himself in the world of buying and reselling clothing since 2020. "I usually get my clothes at various thrift stores, garage sales, swap meets, and hand-me-downs from family members but sometimes I shop at other places for specific things I want," said Castulo.  Many of the pieces of clothing that Castulo buys are used for his personal collection and to sell. Castulo and his friends would then sell the clothing at local Ewa Beach events such as the Crafts Fair and Holiday Festival . "I started selling my clothes because of how many times I've switched up my style. I also wanted to give cheap clothes to friends and family who needed some that related to my style as well." 
Both Castulo and Harbors Vintage emphasize the importance of recycling used clothes. "Recycling clothes is a great way to conserve materials, time, and energy. It's also a helpful way to save the environment because why make more clothes when we can use the ones that are already made," said Castulo. And with many stores raising their prices, buying used clothes from local stores/vendors is a great option for those who are not able to afford the average price of new designer clothing.