In a Galaxy Far, Far Away a Trailer was Born
New Star Wars Trailer Brings Spoilers from The Last Jedi.
From a galaxy far, far away came a trailer that fans were excited for. Fans were warned by Rian Johnson, director of Star Wars: The Last Jedi, beforehand that the trailer would spoil some important parts of the movie.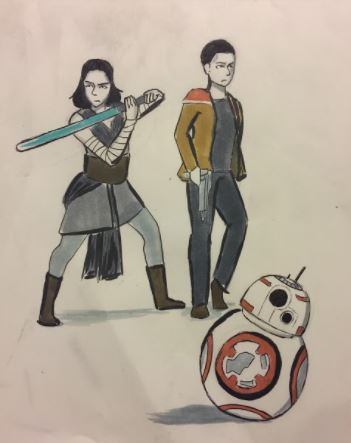 The Last Jedi takes place after the events of The Force Awakens. "Having taken her first steps into a larger world in Star Wars: The Force Awakens (2015), Rey continues her epic journey with Finn, Poe, and Luke Skywalker in the next chapter of the saga," Walt Disney Pictures, the company that distributed the film, said.
Kristine Costa, a senior, is a big fan of Kylo Ren. "I love the trailer so much. When I saw Kylo Ren's face I almost cried," Costa said. Unfortunately, she was shocked to find out the newest trailer for The Last Jedi had some major spoilers, but it might have been worth it to see Kylo Ren's face.
Nelson Alonso, Senior, was more prepared for the spoilers. "I loved the trailer because I want to see what's next for Luke Skywalker." Alonso said. He wasn't so shocked by the trailer; he knew that some characters would probably die in the next movie.
Some fans took Johnson's warning seriously and will be ready for premiere night.  Others just watched the trailer because they wanted to know what to expect from the movie. Upset or not they know who will live or die in the film. If there are fans who do not wish to know this information, then it is highly suggested the they do not watch the trailer for Star Wars: The Last Jedi. It hits theatres December 15, 2017; Spoilers or no spoilers, everyone is excited for its release.