Thor: Ragnarok Funny and Action Packed
"Hulk like Raging Fire, Thor like Smouldering Fire"
Thor: Ragnarok is Marvel Cinematic Universe's (MCU) most recent movie release. Taika Waititi was the director of the film which starred Chris Hemsworth as Thor, Mark Ruffalo as Bruce Banner/The Hulk, Tessa Thompson as Valkyrie, Tom Hiddleston as Loki, Jeff Goldblum as The Grandmaster, Idris Elba as Heimdall, and Anthony Hopkins as Odin.
"After the events of Avengers: Age of Ultron, Thor, held captive on the planet Sakaar without his hammer, must win a gladiatorial duel against an old friend, the Hulk, in order to return to Asgard in time to stop the villainous Hela and the impending Ragnarok, the doom of the Asgardian civilization," Walt Disney Pictures, the company that distributed the film, said.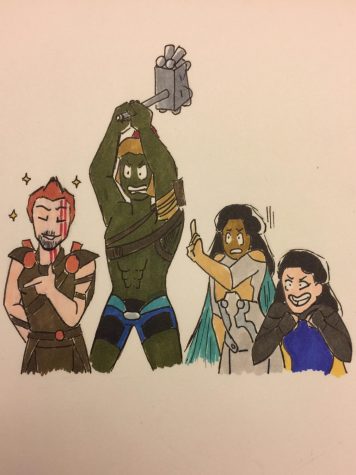 Thor: Ragnarok was one of Thor's funniest movies because it gave the audience laughter and a cheerful feeling throughout. The comedy was more humorous and even the action scenes were more thrilling for audience. The mixture of Thor and Hulk was brilliant; they're the main comedians in this movie and are considered the comedy duo of MCU's Thor Trilogy. It's worth watching in theatres and even better to watch in 3D because of the eye-popping moments. "The movie was enjoyable because it was very action packed and fun because it had a very different tone to it," said Steven Lau, a senior. "The movie was colorful and the fights were well choreographed and humorous."
Lau went to watch Thor: Ragnarok on Friday November 3. " It was different and unique from the other Thor movies. It had the Hulk in it and it was action packed." Lau said.
He has watched all of the MCU movies but his favorites were The Avengers and Iron Man 3. "I was planning to watch this movie [Thor: Ragnarok] ever since it was announced," Lau said. "I would rewatch it again because it was very entertaining."
Solei Santana, senior, also went to watch Thor: Ragnarok on Friday November 3, but she didn't like the movie very much. "It was complete and utter nonsense to me because of the bad humor throughout the movie and it totally ruined the movie," Santana said. To some people the comedy in this movie ruined it.
Thor: Ragnarok might not be for everyone, but many still find the humor and action combination very entertaining, so go see this movie. The time has come, it's main event time. Time to see the newest MCU movie and see what all the hype is all about. It was said by Kevin Feige, president of Marvel Studios, that Thor: Ragnarok will lead to Avengers: Infinity War. There have been three Iron Man films, three Captain America films, and three Thor films. The MCU world changed drastically in Thor: Ragnarok and they build directly into Infinity War, which will be the third Avengers movie (Cinemablend). Fans should watch the movie to find the connections and foreshadowings to Infinity War and to see their favorite MCU characters banter.