Basketball Tryouts and Basketball Bonds
Each Saber Tries Their Hardest to Make the Basketball Team
It's that time of the year again. Winter sports season is here and boys from every grade level come out to participate in tryouts for James Campbell High School's (JCHS) Junior Varsity (JV) and Varsity basketball teams. The pressure for each of them is at it's highest and they're bringing everything they've got. Tryouts can last up to three days, depending on how fast the decision making of the coaches goes. Players will get cut each day till the last day when the final agreement between all coaches is made. "I motivate myself everyday by pushing myself even if I'm having a hard time. I have to be confident in everything I do so I don't sike myself out," said Kawena Kapua, a sophomore, in his second time trying out for the team.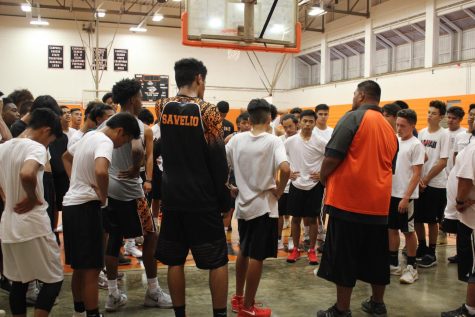 Tryouts are split into three days and consist of the players performing different skills each day to prove they have what it takes to make the team. "Each day consists of agility stretches, sprints for cardio, and various drills to show our strengths for ball handling, shooting, passing, and defense. We then do scrimmages to see how we react in game situations," said Samuel Sabellona, a senior who has been on the team since his sophomore year.
Players who were previously on the team are just as nervous as the newbies; they are under the same pressure to make the team. They even have their own difficulties while performing drills as well. "Ball handling drills are pretty tough for myself. But when I see good competition, it does motivate me and I strive to be the best one on the court," Sabellona said.
Students at the tryouts are 100% supportive and motivate each other to do their best. "Even though we don't have our set JV and varsity teams yet, we've bonded with each other a lot through conditioning and these three days of tryouts. People will get cut, but I've made friends that I'll always have," said Henry Nixon, a senior who was on the team last year.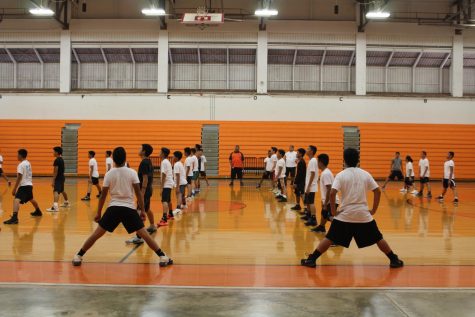 Andrew Mersberg, a senior who has been on the team since his freshman year has gained so much; he hopes to pass down many of  the lessons and skills he's learned to the underclassmen and upcoming senior players. Mersberg said, "If I make the team for this last year of my high school career, I expect to become a better leader to my other teammates and someone they aspire to look up to. I hope to take away a stronger bond from when we first start our season to the end of it. I also hope our brotherhood remains as us seniors leave and when the season is over."
 Despite the outcomes and end result for each player that tried out, the bond between these boys is without a doubt strong. The love and passion that they all have for basketball is something that will keep them together. Like any other sport, try outs are a serious and intense time. They bring out the best in each player and really show the coaches what they're capable of. 
Varsity Team
Henry Nixon
Samuel Sabellona
Andrew Mersburg
Larsen Jones
Robert Hutchinson
Roman Hutchinson
Mitchell Williams
Charles Dickens
Christopher Moore
Bryan Canencia
Byron Baker
Kupono Acana
Micah Ferreira