Regal Cinemas Showcases a Mini-Marathon with the Release of Justice League
"You Can't Save the World Alone"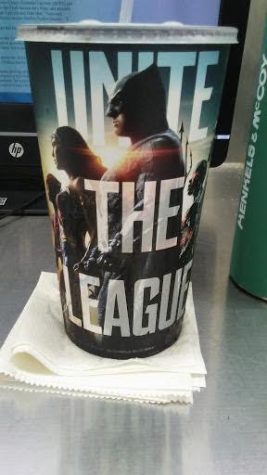 On October 25, tickets went on sale for Justice League. Regal Cinemas announced that there was an exclusive mini-marathon event which showed Wonder Woman and Justice League. The Double Feature started at 3:00pm playing Wonder Woman first and playing Justice League at 6:00pm. The theatres that played these movies were Regal Kapolei and Regal Dole Cannery. This event was exclusively for Regal Cinemas only.
Any Regal Crown Club members received a five dollar medium popcorn and soft drink combo with a collectible cup, five dollars off a double feature ticket (only redeemable at the Box Office and only for the Justice League Double Feature), and earned 1000 extra points with the ticket purchase (Regal Cinemas).
The Justice League Double Feature event was not explicitly planned out because they didn't announce that there was a collectible cup that came with the medium popcorn/drink combo. When entering the theater, everyone had to show their tickets to the concession stand workers in order to get the combo. Afterwards everyone went to their seats to get relaxed before the movie started. After Wonder Woman was done, everyone refilled their drinks and got food before the next movie started. After Justice League was done, everyone was so surprised about how this movie event was not planned very well.
It would still be cheaper to go to this event; Regal showed two movies for the price of one. The ticket price was $24.50-$28.26 (Fandango). With the five dollar off ticket prices reward, which came with the event ticket purchase, the actual cost came out as about $19.50-$23.26 for both movies. One movie would cost $7.15-$9.13, and a regular showing would cost more than $25 for one person, including food and drinks. Going to the event is the cheapest way to watch these movies bot movies.
Regal Cinemas has also announced that they are going to have a mini-marathon for Justice League. DCEU fans should look for these events; the Justice League Double Feature brought fans of the DCEU together to watch both Wonder Woman, the best DCEU movie yet, and the newest installment, Justice League, which is now playing in theatres. This movie unites the league, so have a blast watching it.