A Need for Space
There's a parking problem at James Campbell High School; Students Don't Have Any.
In 2017, Our Lady Of Perpetual Help (OLPH) and the Ewa Beach Community Park (EBCP) closed their gates to student parking. Leaving parked cars from the students of James Campbell High School (JCHS) scattered across Ewa Beach.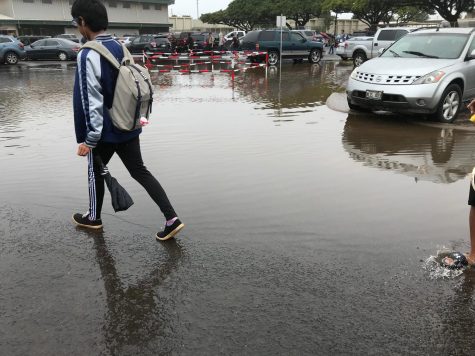 56 parking stalls are supplied for the students at the Boys and Girls Club (B&G Club). However, students compete to find parking elsewhere when the lot is filled. During rainy days, students need to find a way to navigate a the flooded parking lot.
"We don't need to extend the Boys and Girls Club parking lot, we need a parking lot for ourselves," Arynn Dyer, a member of the JCHS Senior Student Council, said.
The lack of parking affects student school life. Students who don't have access to the parking at the B&G Club, miss class because of the time it takes to locate legal parking. Unless students come early the parking lot is likely to be full. "I don't want to get a late pass because of the extra time it takes me to find parking," Brittany Cadelina, a JCHS senior, said. Continuously late students will have to participate in detention, while absent students get little to no consequences.
Some students find parking solutions by parking in places they shouldn't. Students are parking in the "teacher's only" parking lots, which causes some of the teachers to find different areas to park their cars. "Sometimes they are parked there in the morning, so I'm forced to park somewhere else. By the time I sign in to the office they aren't there," Jan Takamatsu, a teacher at JCHS, said.
Although JCHS continues to upgrade the school's campus, there are no future plans for building parking lots for JCHS students. "We are only obligated to find parking for the Department Of Education only, such as teachers and staff," Tumoana Kenessey, the Academy of Steam Principle, said. Students are responsible to find parking on their own.
"Student parking is a privileged. First come first serve," Kenessey said.  The school is not responsible for students coming late due to the lack of parking.
Having a back up plan, such as, knowing multiple legal parking spots is another way to find parking when there are no available spots at the B&G club parking lot. When parking at the B&G Club students should arrive there before 7:30 am to have a higher chance at securing a parking spot. Students should arrive prior to 7:40 am if they wish to park on the side of the road by EBCP. The best way to find parking is to "wake up early and go to school early," Czarina Prieto, a senior at JCHS, said.