Wakanda Forever
The New Black Panther Movie Sheds Light on African Culture
On February 16, Marvel Studios' latest movie Black Panther was released. The movie instantly became a box office hit, reaching a profit of $428.8 million by the thirteenth day of its release.
Black Panther tells the story of T'Challa, the newly appointed king of Wakanda (A secret civilization in Africa). Following his father's death he must lead his country further into history. However as a new powerful enemy arises, King T'Challa must summon the full power of the Black Panther and the strength of his Allies to save his country and in turn, the rest of the world.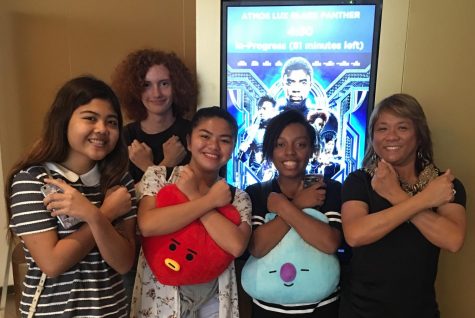 The movie not only made a large impact in the entertainment industry but also in the lives of African-American people around the country. On social media many people of African descent started to show their growing pride in their heritage.
Black Panther has caught the attention of not only common moviegoers but also many celebrities. Serena William, an American tennis player, spoke to an audience at a private screening in San Francisco and said, "This is a huge moment for us and for black people."
Gabrielle Union, an American actress, tweeted, "Black Panther is more than a movie; it's a movement." This movie has been viewed as something that showed the amount of talent that can be found in the black community.
In James Campbell High School, some of the students share the same viewpoints. Zaccai Ceruti, a student that watched the movie said, "It shines light on African-American actors."
Joshua Barney, a James Campbell High School freshman said, "It shows that black people have a rich culture that we can be proud of."
Many people that viewed the movie wore clothes with African designs. Approaching the movie's release there was a massive boost in the sales of African clothing, generating a profit of about $180 million by the time of the movie's release. The movie not only showcases this kind of fashion but it promoted it, bringing African culture into fashion.
The movies box office sales continue to rise, becoming one of the top ten most profitable movies in the world. Black panther has inspired the African-American community to embrace their culture and left a big impact in the country itself.