How A Campbell Teacher Came to Be
Maurea Walsh, a Campbell Alumni Now a Campbell Teacher
Makena Pauly, Copy Editor/ Website Publisher
November 12, 2017
Nearly 16 years ago, James Campbell High School (JCHS) watched Maurea Walsh graduate from the class of 2002. Though she has only been teaching at JCHS since 2014, Walsh has been at JCHS for far longer, and has become a valued member of the AVID and school community. Her students value the stability and support she gives them.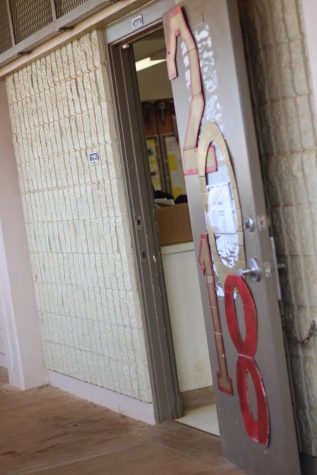 During her junior year at JCHS Walsh began to realize she wanted to become a teacher by taking the Early Childhood Education course, which is still a course at JCHS today. In her senior year she became a leader in the class. "I was more in charge of running the program itself," said Walsh. Her class's accommodation project was to run their own preschool, during which she realized she wanted to work with kids.
After graduating from JCHS Walsh attended Leeward Community College (LCC) to obtain her Associates of Arts degree in Elementary Education and Religion. While in college she joined LCC's honors program. "It was like a leadership class, part of it was we had to do an internship. So 2004 was the first time I came back to Campbell," Walsh said. She later transferred to University of Hawaii at Manoa to receive her Bacholates in religion and Masters in Elementary Education. Currently she is a student at Chaminade University as well as a teacher at JCHS, trying to obtain a Masters degree in Counseling Psychology while she educates her AVID class.
The second time she returned was in 2009 as a part-time teacher. She came back to JCHS to assist her previous teacher's Early Childhood Education and AVID class. "I started when her students were freshman, and I got to work with her through their freshman and junior years, then I was offered the position to teach AVID," Walsh said.
Walsh didn't originally intend to take on the full time teaching job, she enjoyed the flexibility that part-time teaching gave her but she fell in love with AVID. "I loved the avid program so much that when they offered it to me, I was like, 'I will work full time for avid,'" Walsh said.
Despite having a degree in Elementary Education, Walsh was able to teach at the highschool level because she had three years experience with AVID and "you can't go to school to become an AVID teacher."
In actuality Walsh's elementary education degree helped her in her first year of teaching. "I think having that background in elementary really helped working with freshmen, because I think freshmen are a lot like kindergartners. Not in a bad way, just because they're the babies of the group," said Walsh. "I feel like the things that I've learned with my classroom management has really helped me train my freshmen in a sense."
In the AVID program Walsh has been able to teach her students from freshman to senior year, watching them grow. "They've come a long way and it took a lot of patience, but they're amazing now, so all that hard work was worth it," Walsh said.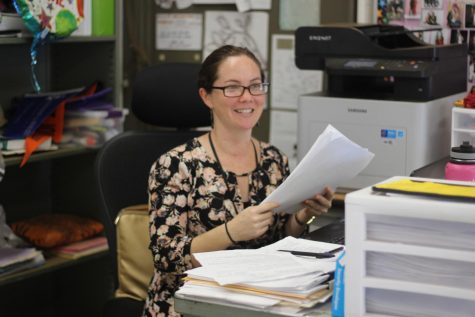 In the AVID classes at JCHS the teachers and students support each other for four years. Walsh's class is unique because she has three periods of AVID and over the past four years they have been mixed and rearrange, so almost every one of her students have interacted with one another. "I love seeing how they're so supportive of each other and always there for eachother. You know I think it really helps to go beyond stereotypes and cliches. I can partner anybody with everybody and it will be fine," Walsh said.
Not only has Walsh become the first full-time AVID teacher with three AVID periods in the same grade level, but her students have also become a very important part of her life. Getting teary eyed she said, "The relationship I have with them and the energy I get back from them helps to balance it all out: the emotional investment, the energy, the time, the effort, just everything. You want to do everything you can to make sure these people that you've been with for four years are going to be okay once the leave, and I'm going to think about them and worry about them for the rest  of my life."