Nothing Better than Cheddar
The Hawaiian Human Society Rescues and Rehabilitates Animals in Need.
Makena Pauly, Copy Editor/Website Publisher
February 25, 2018
Everything's better with Cheddar. The small chihuahua rescued by the Hawaiian Humane Society (HHS) was given his name based off his cheesy coloring, but when he was cleaned it was revealed that his coat was white. His fur had been temporarily stained by dirt and feces from his previous home, a puppy mill. Cheddar is presently looking sharp thanks to the HHS and his foster family, who adopted him.
There are approximately 10,000 puppy mills in the United States as of 2004 with over 2 million puppies bred (The Puppy Mill Project). Cheddar's puppy mill had over 30 dogs living in less the ideal conditions. "They were living in their own feces," Shayna Vi, a HHS public informer, said. The dogs had food and water covered in their own excrements and were forced to "have as many puppies as possible as often as possible."
"A puppy mill is an organization or business that's run by an irresponsible breeder whose main concern is to make money. They don't see these as dogs or pets, they see them as dollar signs or profit," Vi said. Usually these puppies are sold online or to pet shops; a chihuahua like Cheddar would have been worth about $600.
The HHS deals with many different types of abuse the most common being cruelty, neglect, and abandonment. Animals who suffer from these abuses usually come to the HHS skinny and riddled with parasites. Cheddar was one of these unfortunate pets, he was brought in starving with patches of fur missing.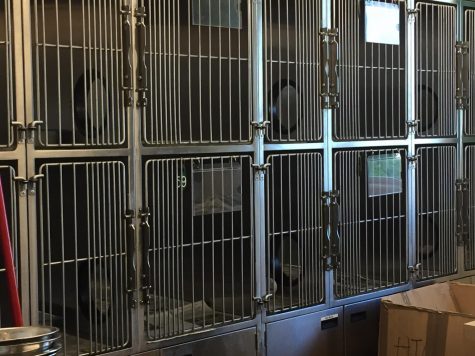 An animals rehabilitation process begins at the freedom stage. First they must be released by their abuser; this can either happen through surrender or by going through the court system. "In the state of Hawaii an animal is considered property," Vi said. Surrender allows animals to come immediately to the HHS, but with court cases animals are in a temporary state of "limbo" where they belong to the state. After the Hawaii Police Department gets a warrant and takes the animal out of their abuser's care by force, the animal is then property of the state. The state is then capable of giving ownership to the HHS if they rule it necessary. Cheddar was eventually surrender by his owner, after the courts were involved.
Once the HHS obtains ownership they are able to access the emotional and physical state of the animal, in order to house them with a loving foster family. "We ask the community to help out; their only expense is some TLC (time, love, and care)." Vi said. "We provide the food, we provide the medication, if they need to see the vet we take care of all of that." The entire rehabilitation process is paid for by the HHS.
Rehabilitated animals are put up for adoption immediately. Some animals, like Cheddar, even get adopted by their foster families.Though there are still many animals who need help in Hawaii, the HHS and the community are lessening the number day by day.