Spreading Aloha Around the World
JCHS Service Club Travels to the Philippines to Help the Less Fortunate People
 In 2017, Jennifer Ventura and two students: Leilani Vasquez and Trinity Favela came together to form an international community service club based on the idea of traveling. This was the beginning of the James Campbell High School (JCHS) Service Club. The purpose of the club is "to bring aloha overseas while providing service to underprivileged communities," said Ventura. Through donors, fundraising, and pocket money, the club was able to serve a village in the Philippines.
On May 15, 2018, eight students and teachers from the Service Club departed on a twelve hour flight from the Daniel K. Inouye International Airport to Manila Ninoy Aquino International Airport with a layover in South Korea. The JCHS Service Club worked with a nonprofit organization called Gawad Kalinga whose purpose was to, "end poverty for five million families by 2024."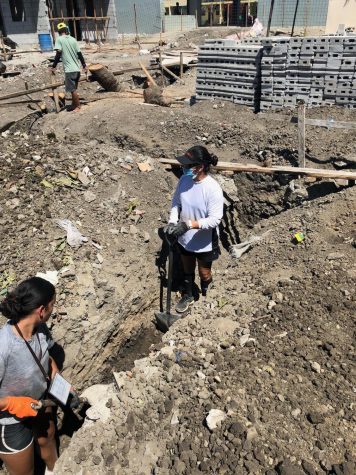 The service club assisted Gawad Kalinga in building houses in a village named Muntinlupa. "The housing that was being upgraded were makeshift houses, in poor condition, dirty, and crowded," said Katrina Pasion, a teacher who chaperoned the trip.
The Service Club was instructed by the future tenants of the home and the site engineer. Using shovels, they dug six by four trenches. Concrete blocks and sandbags were then used to upgrade the houses. In order to move the materials from the side of the road to the build site, the Service Club formed an assembly line with the other volunteers.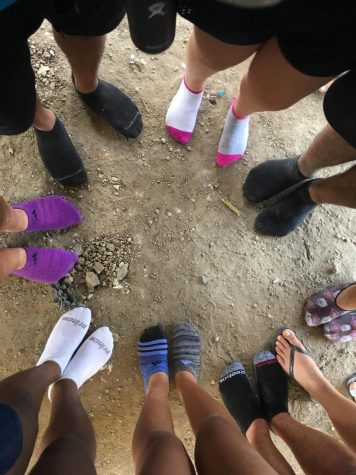 On the last day of serving the village, Service Club members voluntarily donated their shoes and traveled home with only socks. "They were very appreciative of everything that we gave them, so the students decided on their own that they were all going to leave their shoes." said Pasion.
Furthermore, the Service Club distributed school supplies, hosted talent shows, and played games with the kids who lived in the village. "It was amazing to see how happy they were with even just a pencil," said Keala Elcano, a senior from JCHS. In total, the Service Club donated 132 bags of goods to the people living in the village.
Their future plans are to serve those in need all around the world. Next year, the Service Club plans assist the east coast of the United States. "Right now we're doing big picture things and then we are going to scale it back into the community," said Ventura. With the proof of international service, the club hopes to draw more attention and more students willing to serve.