Cheer Athletes give insight on delayed season
Football games are one of the highlights of the years of high school.  Not just football players playing the game, but the band playing, the crowd shouting and creating that chaotic environment in the stands, and cheerleaders doing their routines and getting the crowd hyped.  These are the types of games that can create memories.
On August 4, 2021, the Department of Education (DOE) sent out a letter stating that if student athletes want to participate in the upcoming fall season, they are required to be fully vaccinated or they will not play.  The season was delayed until people who were not fully vaccinated or have yet to get the vaccine to do so.

Students at James Campbell High School (JCHS) had a range of feelings about the announcement, especially the ones who can only join school sports teams.  Not to mention the non-athlete students, who were looking forward to some normalcy with the excitement of football games.
Cheerleading is one the sports JCHS has to offer. It is so much more than doing cool flips and clapping and looking pretty.  It takes lots of jumping, tumbling and routine practices and those cool flips take hard work to get down too.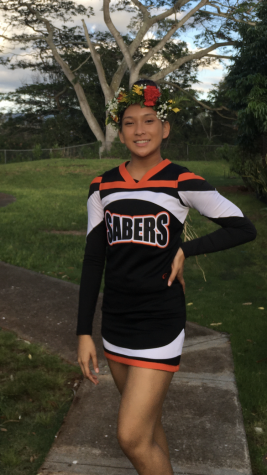 Jaycelen Iwasaki is and has been a cheerleader at Campbell High for all four years.
She first got into cheer when she passed by a gym when she was five years old with her family.  The flips and routines she saw captured her attention. She thought it was the coolest thing in the world and that was the start of her interest in cheer. 
Getting interested and starting a sport from a young age sparks some passion which only grows over the years, which is exactly what happened to Iwasaki.  She is passionate about cheer and thinks that she will most likely cheer in college.
Other than liking the sport, Iwasaki does cheer because it also teaches her basic teamwork, perseverance, and determination to get the routines down.
"At first it's pretty scary," she said about doing flips for the first time, "but I found most of my passion in tumbling."  She crossed her legs and straightened her back before leaning forward.  She's also been training herself during off season because she personally likes to prepare herself for when the season starts up again.
"I like to condition myself because I know…it's technically like cheating myself if I don't do anything."
Other than cheerleading, Iwasaki likes to play video games and reads from time to time.  She's both a mobile and playstation for Call Of Duty and Apex. 
 With the season being delayed, Iwasaki is disappointed but grateful nonetheless that there's even still a season.  She thinks the only downside, though, is how stressful the situation is because "everything is so crammed" into such a shorter season.
At James Campbell High School, cheer is a Fall sport but their season depends on how far they go in competition.
 "Even though people are like, 'Oh yeah, it's not a sport.' But people don't know that there is a competitive side of cheerleading and it's actually really more intense."
In Iwasaki's sophomore year, the last time JCHS cheerleaders competed in person before the virus hit, they took the black and orange colors to the OIA's (an athletic conference for all public high school sports on Oahu), making it the first time in 10 years that Campbell's  appeared at the conference.  They placed 10th but with the intensity of the events and the fact that Campbell had not competed at that level in almost a decade, the cheer team felt it was worth it and left feeling really accomplished.
Julena Parks a junior at JCHS does cheer both in and out of school.  She's also a cheerleader at Aloha Cheer Academy (ACA) in Waipahu.
Parks' mother was a cheerleader when she was in high school and when Parks was born, she saw an opportunity to put her daughter into cheer.  Parks began her cheer career at the age of five and grew to love the sport but that doesn't mean she doesn't not hate it sometimes.
"It's like a love-hate relationship.  So, I love it but then I hate it but I won't quit the sport."
With the school season delayed, Parks' outside cheer team started their season on time (with COVID-19 precautions) in their own cheer gym, where she trains in the off season from school.  She likes to workout in general too, so aside from cheer that's what she'll be doing.
Being on two teams of the same sport can get stressful sometimes, no matter the balance a person thinks they make from juggling them both.  Cheering both in and out of school takes its toll on Parks and encounters stress when learning routines, the dynamics and keeping cheering styles separate.
"'Cause I'm on two teams so learning stuff about two teams is difficult," she said.
Parks really likes how cheer keeps her on her toes and takes up most of her free time.  Parks is a main base and a side base for both teams; meaning she's one of the people on the ground holding up the flyers and helping them flip in the air.  Being a base is hard on a person, because they are responsible for throwing and catching a flyer. But being a main base puts a little more pressure on Parks because if a stunt or a part of the routine goes wrong- it is her fault.