A New Movie Comes with a New Event
On Thursday September 7, tickets went on sale for Thor: Ragnarok. At the same time, the tickets for the Thor: Ragnarok Opening Night Fan Event went on sale. The theatres that presented this event in Hawaii were Regal Kapolei Commons 12, Regal Dole Cannery Stadium 18. During this event fans were given a free collectible coin, a cup (44 oz.) and also got to watch seven minutes of exclusive content from the movie. Prices ranged between $17.58 to $28.00 with the cup, medium popcorn combo and the collectible coin.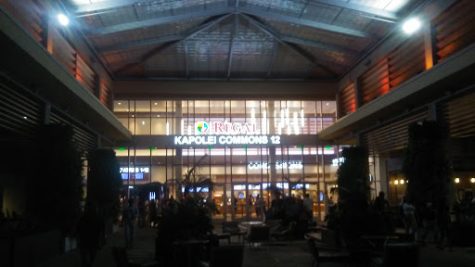 The Thor: Ragnarok Opening Night Fan Event went smoothly. Before the event started, audiences went to concession stand to get their free collectible cup, the medium popcorn and collectible coin while getting their food and drinks. When the movie started, they showed the exclusive content about the music composer and how they made the music for the movie. After the exclusive content was played, the movie played immediately with no trailers. Kristine Costa, a senior, has experienced an event like the Thor: Ragnarok Opening Night Fan Event. "I went to the Star Wars: The Force Awakens Fan Event," Costa said. "I feel like it would be really interesting to go to the event like the Star Wars one. Everything you're getting is worth all the money. I don't see a problem with the price of admission."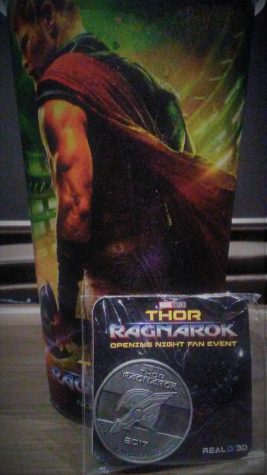 It is actually more expensive to go watch the movie without the event. The experience would cost more after buying food, drinks, and the ticket. The event includes tickets, a medium popcorn combo, and a free refillable cup. Regular Showing for one person would average out to about $40.57–with food and drink–while the event costs about $36 (Fandango.)
The upcoming events  for the next four months are the Justice League Double Feature, Star Wars Double Feature, Opening Night Fan Event Star Wars: The Last Jedi, Black Panther Opening Night Fan Event. More will be announced.
Fans of the Marvel Cinematic Universe should look out for these events; The Thor: Ragnarok Opening Night Fan Event brought Marvel fans to the theatres to watch the newest movie before anyone else. Thor: Ragnarok is now playing in theatres and fans are excited for this newest installment.